Applications
Accumulation
Dorner's accumulation conveyors can ensure a steady supply of product to a machine or to hold a supply of product when a machine stops. Our accumulation conveyors are designed to satisfy the needs of our customers requiring a solution for handling overflow, buffering items, merging lines and more.
To create accumulation conveyors, low-friction belting, made of either urethane or modular plastic chain, is needed. Your particular application needs and products determine the best choice for your business.
When in-line accumulation conveyors do not offer enough product accumulation space, Dorner has designed accumulation conveyors, often referred to as accumulation tables, using multiple belts within the same frame to provide additional accumulation space.
View a Dorner Accumulation Conveyor in Action
Custom Accumulation Conveyors
If your business requires a
custom conveyor system
, know that Dorner has earned a sterling reputation for its custom solutions. These custom conveyors are designed for customers desiring to achieve optimal efficiency and productivity in their businesses.
Dorner's accumulation conveyors are custom-built for each customers' application. By using standard products and modifying them to meet product size, type and production rates, we can create a completely custom accumulation solution that helps increase your productivity.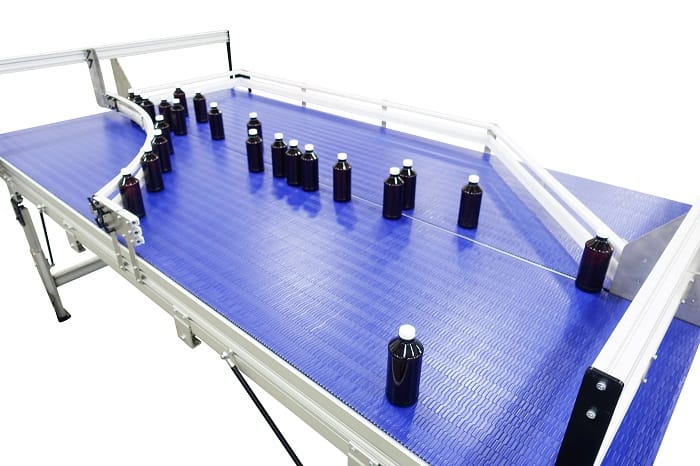 Accumulation Conveyor Applications
Accumulation conveyors are used for several kinds of applications. These applications include

What Are Accumulation Conveyors?
Quite simply, accumulation conveyors are designed to manage products for specific purposes, including controlling overflow and providing buffers. Accumulation conveyors are often seen as the ideal conveyor solution when items from multiple lines must be merged into a unified line and to even out product line rate variations. In many manufacturing facilities and warehouses, accumulation conveyors are also used to provide item singulation. This means that a conveyor can allow one row of product on outfeed.
Types of Accumulation Conveyors
Dorner

Accumulation Tables
Accumulation tables are a kind of accumulation conveyor. Accumulation tables come in three varieties: rotary accumulation tables, recirculating conveyors and single low back-pressure conveyors.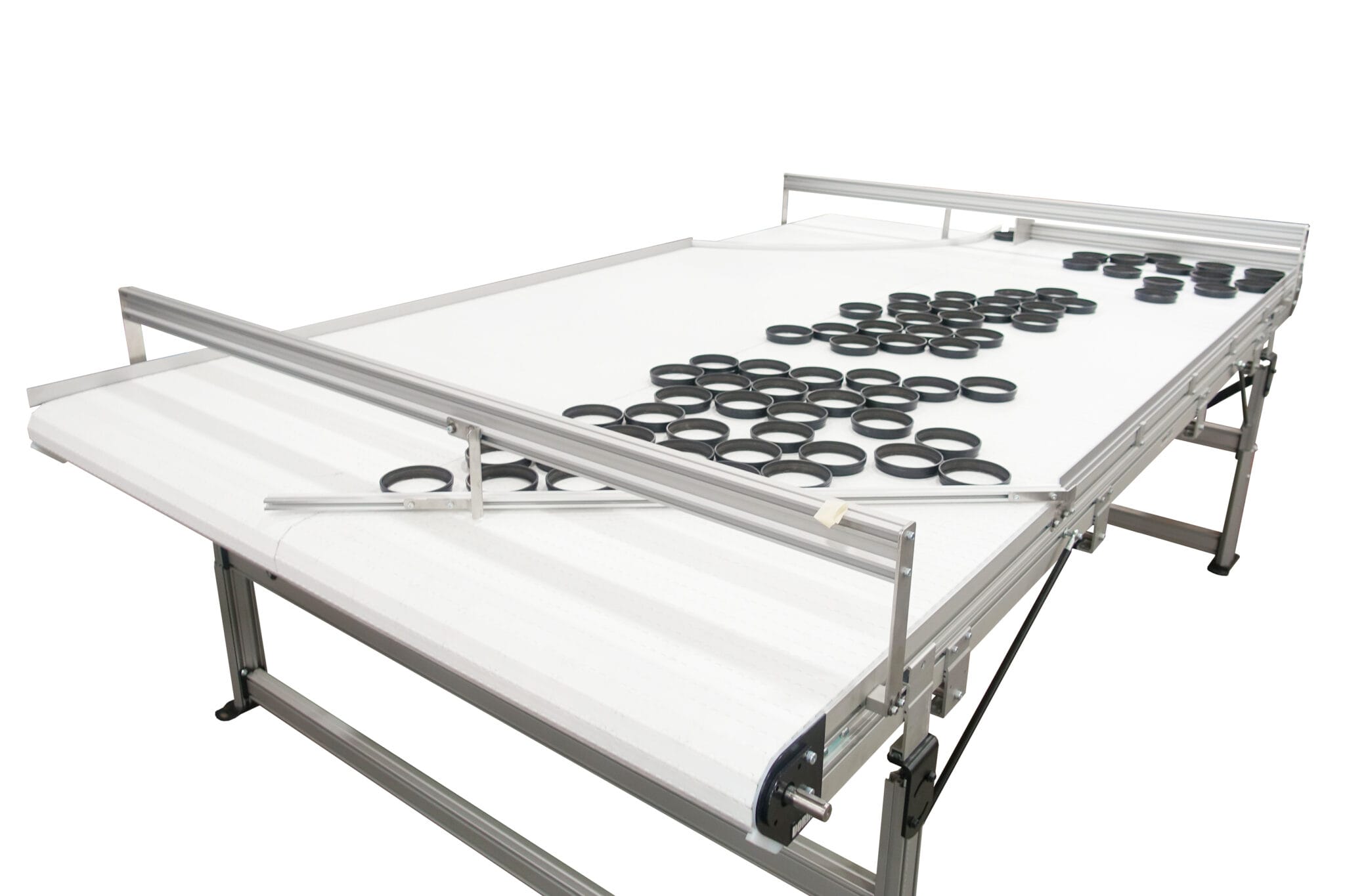 Dorner

Accumulation Conveyors
Accumulation conveyors include alpine and helix conveyors, which utilize special configurations that can make the best use of space in facilities short on available space.
Accumulation conveyors include alpine and helix conveyors, which utilize special configurations that can make the best use of space in facilities short on available space.
Alpine conveyors are compact conveyors with a spiral configuration. These conveyor types make excellent use of vertical space to contain items, creating a smaller footprint. These conveyors are especially valuable in facilities where space is at an absolute premium. Alpine conveyors are used as an accumulation or elevating buffer zone between different machines. They're also used for drying, cooling and curing purposes. Alpine conveyors can move product at different levels and create downstream product flow, avoiding bottlenecks in your facility's processes. These conveyors are used in applications in which product needs more time for processing or testing and in which product needs to be cycled, batched or stored while another product is being dispatched. Alpine conveyors are set up as an elevating or lowering system featuring a single or double serpentine configuration. These conveyors can serve as an in-line accumulator whose entry and exit points are positioned at different levels or with these points on the same level. Alpine conveyors present businesses with the option of adding more levels when additional capacity is needed. They also decrease the impact of machinery failures, enabling the accumulation of items from a machine with the nest machine is fine-tuned or repaired. Helix conveyors, meanwhile, are compact flexible-chain units featuring spiral and helical curves. Their flexible design offers a wealth of layout opportunities, with infeed and outfeed able to be positioned at any height or angle. Custom infeed and outfeed lengths enable helix conveyors to extend beyond spiral, cutting back on the number of units required. Helix conveyors' minimal footprint makes them prized in space-challenged facilities. Their side roller chain decreases friction along corners, creating for smoother product handling and faster speeds. These conveyors are used in accumulation, buffering, cooling and other applications.
Accumulation Conveyor Systems Support
Dorner's Accumulator Partnership with Garvey
Dorner partners with Garvey for many accumulation solutions to create custom accumulator tables and conveyors that meet our customers' needs. 
Garvey specializes in accumulation applications for packaging, agriculture, pharmaceutical, and many other industries. Contact us for a quote for a custom Dorner Conveyor-Garvey Accumulator solution, or click here to view Garvey's wide selection of accumulation options.